Most everyone, at least those who would bother to read my blog, have eaten sometime in their life at Waffle House.  My children often remind me that when on trips, I would say, "There's a Waffle House," they have great hamburgers."
In January of 1991,  my ministry at the Atlanta Baptist Tabernacle was in jeopardy as the church "fathers" were considering closing the nearly 100 year old ministry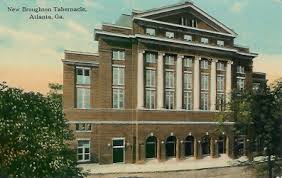 on Lucky Street, downtown.  I personally was not under attack, but the new approach, "new wine," wasn't fitting into the old wine skins of this great old House of God where thousands once attended and countless souls  came to know Christ.    Right or wrong, my good friend and pastor was being blocked at so many levels of this very unique ministry.  (The Tabernacle story might consume another blog down the road.)
Anyway, in addition to the stress at the TAB,  we had worked  hard preparing and promoting Baily Smith as our special guest for a major evangelist thrust. Then, just a day or so before the big event, Bailey became very ill and had to cancel. That knocked me a little lower.  Add to this it appeared that Bill Jr. was on his way to Dessert Storm as a journalist.  Yes, I was a bit "down."     My heart ached for the church and my family.  We had left Florida to work specifically in this inner city work and now things looked bleak.  For about the first time in my ministry I was beginning to wonder if it was worth it.  Churches aren't supposed to close. I know, I know, I am to trust the Lord in all things, but sometimes my flesh takes my eyes off of Him.  I admit it.  Yet, the Lord has ways of gently getting my attention and floods me with his grace and assurance.
Enter WAFFLE HOUSE…  Sunday worship at the Tabernacle was at 1:00 PM and I stopped at a Waffle House near home mid morning.  It was odd to be eating breakfast when i was traditionally at church Sunday mornings.    I walked in ready for breakfast, but feeling pretty low.  I walked in and heard, "Welcome to Waffle House,"  "Hello" "Sit anywhere you can find a seat."  The fact is, there were only a few seats available.  The place was almost packed and there was great energy and "fun" in the room. (I would wager there was more joy in that restaurant than in most churches in Atlanta that morning.)   I sat down at the counter and immediately was served coffee and asked what I would like to eat.  The waitress was very busy, but took time to greet me and make certain I had what I needed.  As I waited for my order I looked around. There were a few people like me, dressed in coat and tie, there were folks in jeans and sweatshirts, there were old people, there were young people, there were children, and even a few teenagers. There were Asian, Blacks, Latino, "red and yellow, black and white…."   There was even a Sikh.    It was cold outside, but warm in every respect.  (I was reminded of the Cheer's theme, "Sometimes you want to go where everybody knows your name…" )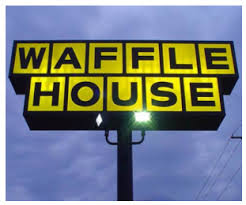 I watched and listened to the staff scurrying around laughing, connecting with customers and each other calling out orders, "Plate with browns,"  "Waffle,"  "Smothered and covered,"  "Plate with raisin"  etc.  (I am always amazed the the cook can hear fifteen orders at the same time and get them right.)  Customers were joking with the staff.  Some were very quiet, but seemingly satisfied.   As people would leave, I heard, "Thank you, come back."  See you next week,"  "See you tomorrow…"
As I sat there it hit me, A CHURCH SHOULD BE LIKE A WAFFLE HOUSE.  It was clear they were glad I came.  The staff was eager to meet  and serve me.  Every "kind" of person is welcome.  There was happy  music playing.  Staff and customers spoke and smiled.  I was fed and was satisfied.  When I left they seemed almost sad that I was leaving and I was eagerly invited back.
I left with a lift in my step and in my spirit. God used a bunch of total strangers to renew my strength and faith.  The following weeks, I became acquainted with the entire staff at that WF and was even able to help some of these amazingly hard working single moms, students, and a couple of senior adult women who had discovered that their Social Security was not quite enough to pay their bills and had gone back to work.
Now that was over twenty years ago, but I remember that day vividly.  (I actually wrote Waffle House and shared what I had experienced; they published a my letter in their company newsletter.
FAST FORWARD TO THIS MORNING:  I slipped into a local Waffle House on my way to Lowes to pick up materials for Christmas Celebration props.  I experience virtually the same thing. As I thought about it, I pulled out my phone and made some notes:
. Looks like Keystone Cops
.The cook made me think of a pastor.  He welcomed me and seemed happy with each order.  He was glad to be of service.
.The assistant cook/pastor, was busy working along side, but obviously eager for the main man to step aside so he could preach, I mean cook.
.The waitresses were upbeat and happy, though one began to stand at the sink whispering about another waitress, The church gossip
.The gossip was "nice," but did try to tell most of others what they should be doing.
.Customers were visiting with each other.
.Then, believe it or not, while I'm sitting there writing my observations, a lady actually called out, "Did someone turn on the air conditioner, I'm freezing in here."  Talk about it being like a church,  I literally laughed out-loud and everyone looked at me like I was some sort of dork.
Though some of the new "hip" churches are doing so, I'm not suggesting the church should serve waffles;  however, the "come one, come all, welcome to a happy place where you can find friends and be fed," attitude  of the Waffle House should prevail in the local church.
What it really sad is that my article is that the church should be like a Waffle House.
The mantra should be "Waffle House strives to be like The CHURCH!"