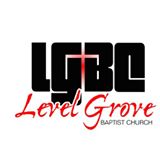 This week, Dorothy and I experienced our first FIRST IMPRESSIONS DINNER.  This is a very nice dinner for new members and people who would like to know more about Level Grove.  Many churches have this sort of gathering and it was wonderful.  Each staff member "hosted" a table of guests.  We got to know them and they know us.  Deacons served the meal and the atmosphere was great.
About half way through the evening, each staff member spoke to the group explaining their respective ministries and Pastor Brian wound things up by sharing the Gospel what it means to be a Christian and church member.  Now, I have been on staff as interim music man for nearly six months and I was blown away with all of the amazing ministries this church has.
Recently I heard, "Bill, you need to understand, we are a little country church."  I certainly  understand and respect what was being said, but the fact is, Level Grove was, but is now  far from a "Little Country Church." It certainly still has the warmth and spirit of a small church, however, each week around 700 worship at LG.  In addition there is a fully graded Sunday School and almost countless local and foreign mission ventures.  There are Bible Studies almost every night of the week.  The youth pastor and facilities manager feed several ball teams each week as well as any number of other groups.  The pastor and  youth pastor personally teach Bible Studies virtually everyday, the children's minister is consumed with individual and group events each week.   Literally hundreds of children and students are involved in summer camps and Vacation Bible School.
Of course, there is a very strong vocal and instrumental music ministry involving children through senior adults.  Very soon, a new youth music ministry will be launched as well as new senior adult ensemble.
All this to say, that Level Grove has a rich heritage, but is not living in the past.  There is a deliberate effort to touch as many lives for the Gospel as possible in the 21st century.   The ministerial staff is totally engaged in serving and many of the members are equally so.  Anyone attending the First Impressions Dinner were….impressed.  Of course, all of this is simply to exalt the name of Christ Jesus and I pray that impressions will translate to knowing Christ and  engagement in ministry.
Level Grove presents CHRISTMAS CELEBRATION "To North Georgia, with Love"  DECEMBER 5 AND 7, 7:00 pm