December 12, 2015    This has been a week…uh, make that a year.  The following is not a recap of the entire year or The Annual Coen Christmas Letter; actually, I don't ever remember writing one of those.  This is, however, reflections of what is on my heart this evening.  We just completed Christmas Celebration 2015, To North Georgia, with Love fro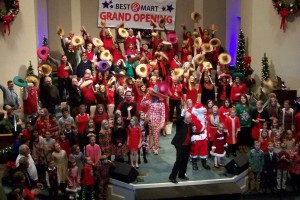 m The Level Grove Baptist Church in Cornelia, Georgia.  This was my thirty-fifth Christmas musical of this type.  I led Christmas Cantatas the previous fifteen or so years of my ministry, but in '81, with the help of Dave and Karen Boyd and FBC Bartlesville, Oklahoma, I changed direction.  We began to add drama, not just a narrator, we added  contemporary and even popular music, and comedy, yet always with a vivid thread of and bold presentation of the Gospel of Jesus.  The stories written were about life, they always contain a crisis of belief, and are resolved with the Gospel, the birth, life, death, and resurrection of Christ Jesus.
This year a Level Grove was no different, and yet it was. The total joy and complete abandon of lifting up Jesus had a freshness to it.  Don't get me wrong, we have had glorious celebrations in each church I have had the opportunity to serve.  I have served very large churches as we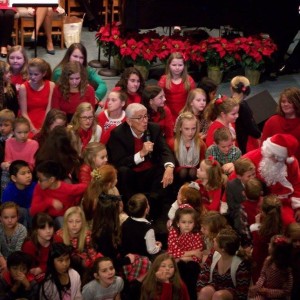 ll as smaller        congregations and have had to adjust to the size of the platforms. (I really miss many of those wonderful folks who partnered with me over the past fifty years.  What is really cool is that I get to keep up with many of them through email and Face Book and through this site.)   Yet,  in my "old age," seeing these North Georgia young adults and children being supported and encouraged by a group of us geezers in such an uncomfortable time in our world, simply energized me way  beyond my actual ability to lead.  I am so humbled and  honored that in my "retirement" God has seen fit to not  just keep an old guy busy, but to allow me to still serve.
This world is really in a turmoil.   Being a baby-boomer who came along just after World War II and remembering Korea, as horrific as those wars were, there is a nostalgia from the stories from The Greatest Generation.  It was clear who the enemy was and we fought to win. Today, the enemy is far more elusive and it certainly seems there is no plan to win.
My point is not to be political, though anyone who knows me is certain I am a Right-Winged Conservative Christian. My point is that people in virtually all walks of life are like "a fiddler on the roof;" the are balancing and could easily fall. Folks go about their business attempting to ignore the big picture so they can keep their sanity and live life, but when they stop and consider all that is around them, they become so vulnerable to the enemy, the political enemy and Satan himself.    God hasn't called me to save the world,  but He does expect me to use the gifts He has given me to show  His love and grace to the world He has put me in.  One of the ways I can do that is through the music He has planted in me.  He has called me to remind folks that those who trust in Christ Jesus WIN.  What I do is no doubt trivial to  many, but if God can use me to lead someone to find Christ or encourage a believer to find a fresh relationship with Him, I figure that is a pretty good job.