Earlier today I posted my first blog in almost two years.  Why it has been so long?  I'm not really sure, but I guess I was focused elsewhere.  However, after a three and half year "interim" at a truly wonderful church, Level Grove in Cornelia, Georgia, I retired again.   For me, retirement is really good… in small increments.   I believe the Lord will lead me to another church to serve as interim or something in the not too distant future.
My wife, Dorothy, has had a rough few years physically with hip and knee replacement on top of the removal of a benign brain cyst, and most recently, revision hip surgery.  She is doing well and we believe she will be well recovered by late spring.  She has kept a great spirit through it all and her faith has strengthened all t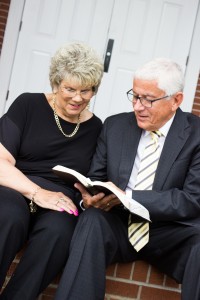 he more.  This time off for me has allowed me to be of  help to her.  At least at this point, we will remain members of Level Grove. Dorothy told me I could go wherever, but she loves her pastor, Dr. Brian James and her Sunday School class;  unless I really feel she needed to follow me around, she will stay put.
In 2016 we celebrated our fiftieth wedding anniversary (they don't let nine-year-olds marry any more….) and are fast approaching fifty-two.  Where I am the June-bug on a string buzzing round as far as I can reach,  Dot is the steady sensible one.  As the song says, "I Am One Blessed Man," which, by the way, will be the title song of my next recording if I ever get it done.
I remain active with the Sons of Jubal, making myself available for concerts, workshops,interim, or just fill-in for friends.  I guess because I'm old, older,  I'm called upon by some of my younger colleagues for help or encouragement; I am humbled, yet honored.   I'm reading new music and trying to learn a few new licks on my guitar.   I'm  reading a great deal and doing a lot of things around the house.  Also during this sabbatical I'm visiting churches of "like faith" but not necessarily of "like order." I'm eager to experience how others are communicating the Gospel.  The Gospel never changes, but the way we communicate it does.   I believe it is vital, even for an 'old guy' to be instant in season and out of season.