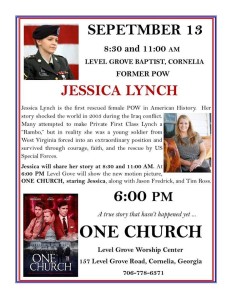 I haven't posted for a long time and I have a number of things that I have been learning and look forward to writing.  At the moment, I am very excited to bring Jessica Lynch to Level Grove Baptist Church September 13.  I was honored to meet Jessica on the set of the new motion picture, ONE CHURCH.  She stars in the movie with Jason Fredrick and Tim Ross.  I had the opportunity to play the role of a pastor.
Sunday morning, the 13th, Jessica will tell her story of being the first female POW in American history during the Iraq war, 2003.  She was rescued by American Special Forces.  Her amazing courage and faith brought her through this amazing ordeal.  She was only nineteen at the time, a Private, and basically a normal young woman that was put into an extraordinary situation.  Jessica is a very humble young woman and a pure delight to be around.
That evening, ONE CHURCH will be shown at 6:00.